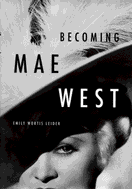 -- About the Author --
EMILY LEIDER was born in New York City and grew up in Brooklyn, New York. A graduate of Barnard, Columbia, and Berkeley, she has been an editor and reviewer for several publications, including the San Francisco Review of Books. Leider edited Yesterday: The Memoir of a Russian-Jewish Family (1978) and is the author of Rapid Eye Movement and Other Poems (1976) and California's Daughter: Gertrude Atherton and Her Times (1991). She lives in northern California.
[ Home | Reviews | Author's Statement | Chronology of Mae West's Life | About the Author |
---
Last modified by Applied Rhetoric on Tuesday, April 18, 2000.
For more information, please send mail to webmaster@appliedrhetoric.com.